One of our goals is simplifying our life right now.
Matt and I donated and threw out lots of things during spring cleaning this year.
Most of them we didn't need, but a few of the items were things that legitimately needed to be replaced. I have been trying to stop shopping at Walmart,Target, and Amazon for things that are going to stay in our home for long periods of time. Instead I've been looking on etsy!
We had three kitchen items that I desperately needed to replace.
The first thing we need was a dustpan...which I did buy from Walmart. (But darn, the ones on etsy are awesome! I didn't even think of it!!)
After realizing that we didn't want our clean dishes near any of the dishtowels in the kitchen, we threw them out and I ordered these instead from an Etsy shop called
Gingiber
.
I'm thrilled with them! They are beautiful. My favorite hands down is the sheep, but the pig is really growing on me. Honestly, this is one of my favorite etsy shops. I love all of her prints.
The other thing I need was a new cutting board. The cutting boards we got from my bridal shower cracked and split, so I started looking into buying one or two new ones. After reading a lot of different cooking websites, I was sad to find out that the best kind of cutting board are end grain cutting boards, but the cheapest I could find was $60. Completely not in our budget. Again I went to etsy, where I found
Albert's Woodcrafts
. I found this end grain cutting board for just $14 ($18 with shipping)!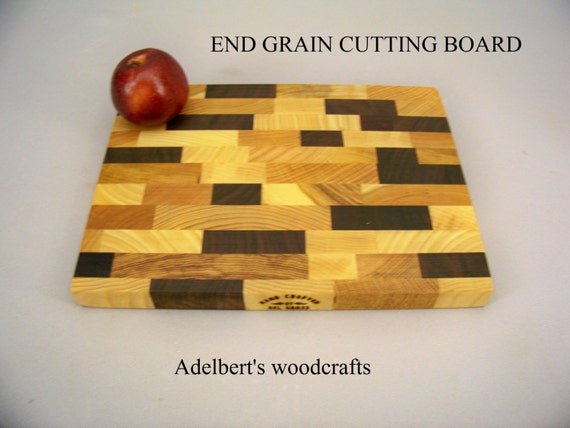 I love it and it smells so good. Del (that's what the guy calls himself) mailed it off within a few hours of me buying it and it showed up the next day! Take that amazon!
One of the things I love about shopping on etsy is knowing a bit about the sellers. Gingiber is run by a fellow grad school wife named Stacy, and Albert's woodcraft is a retired man named Del that lives in New York. I kind of think of them as neighbors. Is that weird?
So, those are my recent etsy purchases. So I'm curious, how often do you buy stuff off etsy? If you don't, why not? And if you do, what are your favorite shops?